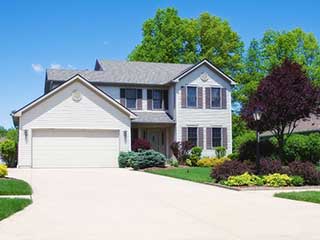 A Company You Can Count On In Charlotte, NC
Garage Door Repair Charlotte believes in giving each and every one of our customers the best service for a price that they can afford! Nobody should have to go without repairs for fear of going into debt, so we work hard to ensure that this won't happen. You shouldn't need to fight daily with your door to get it to open and worry about the safety of your home if it won't close reliably. You'll be able to rest easy knowing that your garage door is in the best hands. That's why we're known as the best in North Carolina!
Looking For The Best Garage Door Repair Nearby? That's Us!
The quickest and best way to take care of door related problems is to allow a local expert to tend to them. While you may be tempted to try and handle issues yourself, your garage door is a heavier and more complicated piece of machinery than you may realize. Trying to do any kind of repairs yourself may only cause further damage to the door that will need to be taken care of, along with being potentially risky for you and your family. Garage Door Repair Charlotte will get any issue fixed for you before you know it, and safely!
Everything You Need From Maintenance To Repairs
No matter if your door could just use a bit of maintenance to help it run more smoothly, or needs a part replaced entirely, there's nothing Garage Door Repair Charlotte won't be able to help you with. Our technicians are familiar with all the major door and opener brands, so whatever you have they'll be able to assist you. From complex opener repairs to restoring a door that got off track or replacing a complete set of panels with sturdier or more insulated ones. Spring replacement is also available for both torsion and extension springs! Safety tests for the photo-eye sensors on your door are also among the different service options available to you. This type of check helps to make sure that these "eyes" are in proper working order and will alert the system when an object or a person gets in the door's path.
At Your Service For Every Question!
There are many questions we often get asked – and since every system is different, the answer isn't always the same:
• How much does garage door repair cost?
• How can I fix a broken spring myself? (don't try this one!)
• How to fix a reversing garage door?
There can be so many answers, and for that we need more questions: what's broken? Is it a panel? Is it the opener? How old is it? Are there parts available? Many questions - but one thing is certain: you can also get an answer from us! Let us help you by providing not only answers – but the professional service, products, and solutions you deserve.
Take The First Step Today!
Utterly Affordable Prices
Technicians with Years of Experience
High-Quality Tools and Parts Used