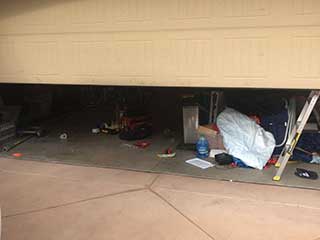 The average family home has a lot of different areas and the garage is one of the bigger ones. Almost all garage door systems these days are automated, adding a little convenience to the coming and leaving of house members. Unfortunately, just like other complex systems, this door is not without its potential issues. Some problems can be bigger than others, but some of the more common ones have something to do with how the door opens.
Garage Door Opens a Little Then Stops

If your door does this, there could be a number of underlying issues. The first one could be a worn spring. The springs carry most of the weight of the door, and when they become worn, they can't do their job properly, leading to a scenario where the door will barely move, or won't move at all. Dealing with them yourself isn't wise, as there's a lot of tension involved, so you should seek professional assistance. Another potential reason for this problem requires checking the opener's travel limit switch. This determines how far a door can go in either direction. Of course, that's not all. There might be some kind of blockage in the tracks, preventing the rollers from moving.

Garage Door Won't Open Manually

All automated garage doors operate by using an electric opener. This device can be a wonderful addition… until there's a power outage. When the power goes out, you won't be able to use this device, unless it has a backup battery feature. However, you can still use your door. You should be able to simply pull the manual release cord and open your door with a little bit of effort. But what happens when you try to open your door manually and it won't open? Chances are you have a broken spring, or some problem with the lift cables. You should avoid trying to open the door manually or remotely if this is the case. This is a situation best left to the experts and not a DIY project for the amateur home handyman.

Garage Door Closes Part Way Then Opens Again

The safety sensors of your garage door opener have the specific purpose of detecting movement when the door is in motion. This is particularly important when the door is descending so that it won't close on a child or pet should they get in its way. If your door closes only partly and then reverses your safety sensors might be dirty, damaged, or misaligned. Cleaning them is the easy part, but sensor realignment can take a little bit of finesse. Of course, if you discover scratches on the lenses, they'll definitely need to be replaced. This safety feature is very important, so you should make sure to address this type of issue ASAP. Remember, Garage Door Repair Charlotte is here to help, every day of the week. Don't hesitate to give us a call.