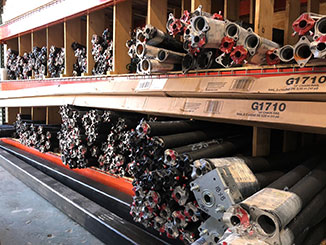 Keep Your Garage Door Working Properly
The last thing you need when you have so much to do is for your garage door to suddenly not work anymore! That's why it's important to keep an eye out for early signs of trouble to take preventative measures now, rather than deal with the headaches later. If you notice that your door is having trouble opening, falls to a close rather than lowering normally, or jerks a lot as it moves, these are all signs that the springs need tending to. Without these vital components, your door won't be going anywhere very easily! That's why we're here to assist you.
Does The Kind Of Spring Matter?
In terms of us being able to help, not at all! Garage Door Repair Charlotte can take care of either type of spring. Both torsion and extension springs achieve the same result of storing energy that's used to lift your door. The difference comes in how they do this! Torsion springs twist to coil up tightly, creating tension that translates into energy. Extension springs, on the other hand, are pulled apart like a stretched rubber band. Unfortunately, due to that constant strain of being stretched to their limit daily, extension springs wear down quickly and are far more likely to break. They're also potentially harmful when they do so, as they snap and can bounce around to cause damage.
Garage Door Repair Charlotte Is Glad To Assist
As previously mentioned, both types of door springs are within our purview. If it's worn and isn't as flexible as it used to be, some adjustment may be required. If the problem is more substantial, spring replacement will be required. Attempting to tend to these things yourself is highly dangerous and not recommended. The spring can harm anyone inexperienced and putting it in incorrectly can send the whole system out of balance and cause more damage. It's best to allow us to lend you a hand and get it finished in no time!
There's No Reason To Wait
Contact Garage Door Repair Charlotte to have all your spring repair and adjustment needs to be handled by professional technicians with over a decade of experience.
Some Useful Information
What should I do if my garage door spring breaks?
If you find yourself dealing with a broken garage door spring, the first thing you need to do is – stand clear. When this type of unit breaks, the door could end up slamming shut. Not only that, but the spring itself could whip around violently, and it will seriously injure anyone unfortunate enough to stand in its path. Dealing with this type of problem is incredibly dangerous, so we strongly urge that you let a professional handle things. Our experts are here if you need us.
How much does it cost to replace a broken spring?
The cost of the unit itself can vary between about 50$ - 100$, but combined with the labor involved the price range can reach an average of 150$ - 250$, depending on the type of spring and its dimensions. While that is not an insignificant margin, consider the fact that spring replacement or repair is a complex job that can be very dangerous. It's far better to avoid the potential risks and to let a professional (like us take care of it for you. Garage door springs can last for several years, even a decade with the right maintenance routine, so this is a very wise and worthwhile investment.
How long do garage door springs last?
This will depend on two things. The first, is how often you use your door. Garage door springs usually last for five to ten years, but their lifespan can be far shorter if you use your door more than two to five times a day on average. The second determining factor is the type of units you have. Torsion springs are far more durable, and because of the way they work they can also be lubricated to lower their wear and tear rate.
Count on our team for:

Commercial Garage Door Repair

Emergency Garage Door Service

Garage Door Receiver Repair

Genie Garage Door Openers