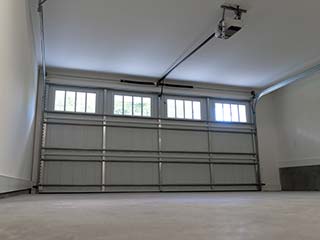 You can take your garage door's springs for granted, but when they break, you'll suddenly realize how important they are. With the right maintenance routine, it's possible to make them last for a very long time. But even then, at some point, the garage door springs will eventually break. If you hear a loud bang and the door slams shut, it's usually a surefire sign that a spring broke. Now, while it is possible to open a garage door with a broken spring, we encourage customers against it. The unstable system can get damaged further, and you can accidentally get hurt. When you need garage door spring replacement near the Charlotte area, use our same day service to safely handle the problem. No need to put yourself in jeopardy. We offer our emergency repairs at no higher cost. So you always have affordable fixes available.
A Garage Door With Broken Springs
Let's talk about some of the dangers and the role the springs play in the way the garage door works. Serving as the main strength of the system (a.k.a the muscles), garage door springs bear the lion's share of the weight. Their coils become loaded with tension and help the door rise without putting a major strain on the opener or you. When garage door springs become too weak, they'll grow slack. And when they break, the door no longer has counterbalance support, which is why it slams down. Also, when garage door springs break, they can whip or fly off. Not a good idea to be standing there when that happens. For these reasons, broken spring replacement for Charlotte garage doors is something you should leave to the pros. With local technicians closeby, you won't wait long to have a new spring installed.
We Replace Charlotte Garage Door Springs Fast
Speed is one of our main focus points when it comes to broken spring replacement. After all, this type of problem usually occurs unexpectedly. That means you probably have plans and the broken spring throws everything up for a loop. Well, no more worries! Garage Door Repair Charlotte offers same day broken spring repairs and replacement for all nearby areas. Get the emergency repairs completed in no time by calling our hotline for fast and cheap services!